There are many complexes in Kamloops that target the ~45-65 age demographic as well as the first time buyer looking for a inexpensive alternative to a single detached home. The Aberdeen adult oriented complexes included below don't necessarily have specific age restrictions but are geared towards adult living. I have compiled a list of stratas on the South Shore that are Adult Oriented. The complexes discussed only include those that are available for sale, no co-ops or government facilities are included in this list. These complexes offer lower maintenance living.
Aberdeen
Aberdeen Estates @ 1055 Aberdeen Drive. Built in ~2007, there are 51 units in Aberdeen Estates. These townhouses are award winning and feature large open designs, high end finishings and 2 car garages. Located on the corner of Aberdeen Drive and Pacific Way, Aberdeen Estates is steps to transportation and recreational fields. Pets are allowed. (~$370,000)
Braeview Place @ 1950 Braeview Place. Built in ~1994 this complex has 105 units. The Townhouses are mulitiple level. Units are commonly 3 bedrooms with 3 bathrooms and have two car garages. Pets and rentals are allowed. Again this complex is within walking distance of shopping (Aberdeen Mall), restaurants (Ric's Bar and Grill, ABC restuarant, Joey's Only, etc) and transportation.
Dunraven @ 2030 Van Horne Drive. Was built around 1993, there are around 36 houses in this bareland strata development. It is a gated development with detached homes on small, low maintenance lots. Many homes are two levels and often basement entry or bungalow style. This popular strata is minutes from all amenities. Prices range but it is not uncommon to see these houses sell over $400,000 on the high end.
Fairway Gardens @ 2290 Garymede Drive. Built around 1990 these bareland stata has about 16 are bungalow style homes. Each home has a 2 car garage, deck and private yard. Pets are allowed with restrictions. This complex is close to the Aberdeen Golf Links and Aberdeen amenities. (~$350,000)
Highland Gate @ 2365 Abbeyglen Way. Built in 2006, this complex has about 33 units. The development consists of executive style townhomes with 3 levels of living space. All units have 2 car garages and 3 or more bedrooms. These townhouses are a two-storey design with bedrooms above the main floor living. Pets are allowed. (~$350,000)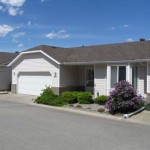 Ravenwood @ 2022 Pacific Way. There are 113 units in this complex that was built around 2001. These townhouses have two car garages, and living space on two floors. Most units are bungalow style with a full basement. Pets and rentals are allowed. (~$300k - ~$350k)
Van Horne Terrace @ 2020 Van Horne Drive. This a bareland strata that was built around 1992 and there are about 22 units in this complex. This adult only gated development has detached homes on small, low maintenance lots. There are both bungalows and basement entry style homes with two car garages. (ranges but ~$330,000)
Sierra Vista Estates @ 2080 Pacific Way. This bareland strata has around 39 units and was built around 2001. These luxury homes are located close to transportation and shopping. Each unit in this strata is detached home typically with a two car garage and small yard space. ($400k-$500k)
Interested in buying or selling in the Kamloops area? Contact me and get informed!
For more information about Kamloops area Real Estate check out:
www.century21.ca/andrew.thompson
www.youtube.com/mykamloopsrealtor
http://twitter.com/myloopsrealtor
http://mykamloopsrealtor-kamloopsrealestate.blogspot.com/