The homeownership rate for real estate agents is 85 percent, compared with 70 percent for other professionals, Trulia says.
Real estate agents know the value of a house — and of a home.
A new analysis by real estate website Trulia shows that nearly 85 percent of real estate agents are homeowners, about 15 percentage points above the homeownership rate of 70 percent for people in all occupations. Agents across all income levels are more likely to own their home than those with similar incomes in professions overall, but the difference is more pronounced among lower-income individuals. Trulia calculated the homeownership rate at an individual level for its report, which is different from the household rate published by the Census.
Demographic factors contribute to the higher homeownership rate among real estate agents. For example, people are generally more likely to become homeowners as they get older, and the median age of agents is 57, according to the National Association of Realtors. Still, even after adjusting for demographics, real estate agents are more likely to be homeowners. In the lowest income bracket, after demographic adjustments, the homeownership rate for agents is 7.6 percentage points higher than the expected overall rate.
It could be that agents with lower incomes are simply more aware of the value of homeownership compared with their peers, and they will make sure to allocate the necessary resources to own, says Eric Barron, CEO of real estate brokerage Keller Williams NYC.
Sylmarie Trowbridge, a real estate agent with Callaway Henderson Sotheby's International Realty, lives in Princeton, N.J., and says owning her home helps her relate to clients and get a feel for her neighborhood.
Trulia's analysis looks at homeownership rates for individuals using census data for "real estate brokers and sales agents" in the years 2007 to 2012. Others in professions related to real estate — such as architects, appraisers and construction managers — also boast higher ownership rates than expected, according to the analysis.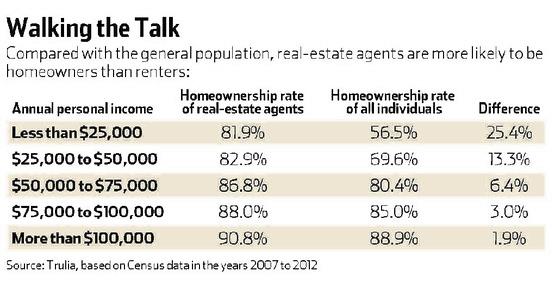 "Good salespeople truly believe in what they are selling. Many real estate professionals really believe in homeownership," says Jed Kolko, chief economist and head of analytics at Trulia. "Also, real estate professionals know the ins and outs of the process, and can handle more of the home buying and ownership process themselves, which could make it easier or less expensive to buy."
Jessica Lautz, director of member and consumer survey research at the National Association of Realtors, which tracks homeownership rates among members, says the homeownership rate among all income levels is high, especially among higher income levels.
More than 90 percent of agents who earn more than $100,000 a year in gross personal income own their home. Real estate "is something they are dealing with on a daily basis; it's a product they believe in," she says.
Of course, some agents would rather rent than buy, particularly in pricey areas. Tim Hansley, a real estate agent with Town Residential, owned his house when he lived in Ohio, but has rented since moving to New York City five years ago. Hansley, a newlywed, says, "We were able to get a better location and lifestyle renting than we would have been able to get as buyers."