Check out this article from www.yorkregion.com by Tim Kelly on the Vaughn MIlls Mall Expansion
Vaughan Mills kicks off 200,000-square-foot expansion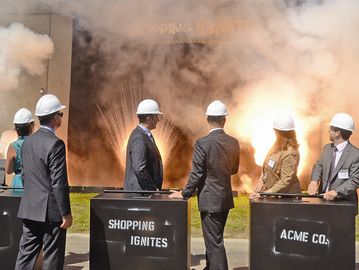 Expansion kickoff
Steve Somerville
Mayor Maurizio Bevilacqua, Vaughan Mills general manager Stephen Gascoine, and other dignitaries, watch an explosion that reveals an artist's rendering of the mall's 200,000-square-foot expansion.
Vaughan Citizen
With a bang and the hoopla appropriate for a 50-store, $87-million, 200,000-square-foot expansion, Vaughan Mills executives celebrated with cool drinks and hot talk yesterday.
Vaughan Mayor Maurizio Bevilacqua proclaimed his city "the place to be" at least three times in the 30 C sunshine and many were hard pressed to disagree.
After all, nearly 14 million shoppers flock to the massive mall every year, spending untold amounts of cash. That creates excitement.
"This place is really an expression of the art of the possible. The story of Vaughan Mills is a story that needs to be told. The success that you've had, we have a market within a one day's drive of 155 million people. We are a city that's very aggressive and we see Vaughan Mills as a part of everything we do and whether we're in Italy or China, we always speak of Vaughan Mills," Mr. Bevilacqua said.
General manager Steve Gascoine celebrated the official construction launch, tipping his hat to nearly a decade of Vaughan Mills success.
"It's been nearly a decade since Vaughan Mills opened its doors. We are responsible for the employment of almost 6,000 people, with more than 3,000 of them full-time," he pointed out.
David Baffa, senior vice-president of retail development for central region, Ivanhoe Cambridge, praised local levels of government.
The mall, once reconfigured, will be brought up to 1.27-million-square feet, he said, adding the new area will include a redesigned food court with a 1,000-seat floor plan with a new central speed-lane feature, a full coverage Wi-Fi hot spot and an enhanced dining experience.
It will also have a dynamic event court featuring custom light pendants and moveable lounge seating, as well as a distinctive new entrance leading to the new Sport Neighourhood, 4A.
The expansion will open in time for Christmas 2014, a date to which Concord/North Thornhill Councillor Sandra Yeung Racco is looking forward.
"Guys and girls, we're going to be here just before Christmas time to do all our shopping, so I'm looking forward to it very much," she said.