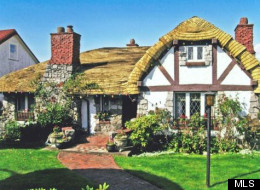 One of Vancouver's 'Hobbit houses' is for sale and its $2.86-million price tag is no make-believe.
The two-bedroom, 2,416 sq.-ft. house built in 1942 is a "fixer-upper," but that hasn't deterred a bump of local interest in the property since it was listed on Monday.
"We've had young couples… someone may want to renovate it. We have some developers looking at it also," said Sutton Group realtor Mary Ellen Maasik to The Province.
Located at 587 West King Edward Ave., it's also one of three Metro Vancouver "storybook style" cottages designed by builder Brenton T. Lea in the 1940s.
Inside, the house boasts ship decking floors and a knotty pine kitchen.
On a sunny day, the backyard overlooks an enchanting view of Vancouver's north shore mountains.
Its attention-grabbing roof – with its curved straw-coloured shingles set in a way to imitate thatched roofing – is an architectural rarity in the Lower Mainland. Owners of another Lea-built "Hobbit house" at 3979 West Broadway spent nearly 10-months and $200,000 restoring the roof.