Underwater condo development planned which will not obstruct any existing views! Street parking available. Aquabus to the common area elevator to the sea condo.
"It is said that if we could handle the density of Manhattan, the whole population of North America could be placed in a state the size of Connecticut," Hadfield tells visitors at the Ontario Science Centre. "On land we have randomly chosen where we live. But in the water, there would have to be more order. Living underwater, like living in space, has some challenges – breathable air, potable water, construction constraints and temperature – but there are advantages, too.
Part-/full-ownership available. Underwater, sea bed strata title ownership.
Schutte, 45, is overseeing the above-water construction of thePoseidon Undersea Resort, which will be taken to Fiji and placed on the bottom of a deep lagoon. There will be 24 undersea hotel suites and apartments covering 51 square metres, anchored on the ocean floor 12 metres beneath the surface.
Although the hotel will have a fleet of small submarines, getting down to the luxury suites (rumoured to be priced at $15,000 per person per week) won't actually mean getting in the water; the building will be connected to the surface by elevators and air shafts.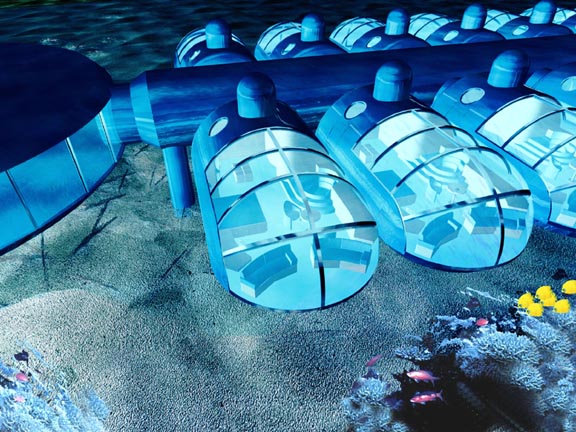 "Why does everyone live on land anyway?" asks Canadian astronaut Chris Hadfield. "Three-quarters of our planet is water and yet mankind is clustered haphazardly on the land. From space you can easily see where people are congregated. You just look for the 'Big Smear,' the bands of pollution that permanently surround our large cities."
This is truly getting away from it all!
For more information, you can also visit: www,hutchyhomes.com