Committee approves revamp of Westgate
Resident speaks to history of mall, advocates for seniors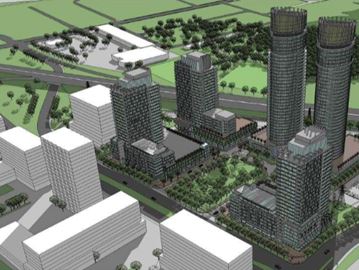 Committee approves revamp of Westgate
Courtesy of the City of Ottawa
The city's planning committee approved a plan for five buildings on the site of the Westgate Shopping Centre on March 28. The design rendering shows 24 and 36-storey buildings.
Ottawa West News
Ottawa's first mall will get a major facelift thanks to an approval from the city's planning committee on March 28.
But it wasn't all accolades for the five-tower redevelopment planned for Westgate.
Local resident Ruth Parent pleaded the case for the Carling Avenue mall that opened its doors in 1955.
"It breaks my heart what they're doing to Westgate," Ruth Parent said, adding she thinks the mall should be given a heritage designation.
The redevelopment will happen in three phases. The first phase will remove the Monkey Joe's restaurant from the southeast corner of the site and put in a 24-storey apartment building.
Ann O'Connor, the planning department lead on the file, said the application represents good planning for the underdeveloped area of Westgate.
Parent argued that the mall is popular among seniors, who are able to get all their errands done under one roof.
"I'm representing the seniors," she said. "Most don't read the paper; they don't know this is happening."
Coun. Jan Harder, chair of the planning committee, said she was at the mall on opening day, and Westgate has changed a lot over the years.
"It has to, in order to have uses to keep it sustainable," Harder said.
Consultant Miguel Tremblay, who represents Westgate owner RioCan, said he realizes the mall is a community hub. It's one of the reasons the project is being phased in — to make the transition easier.
"There will still be 90,000 square feet (8,360 square metres) of retail space," Tremblay said.
River Coun. Riley Brockington congratulated the developer for their two-year consultation plan, adding he's happy to hear RioCan will consult to bring in services that will benefit the community.
"Opportunities like Westgate are exactly what we need to look at for intensification," Kitchissippi Coun. Jeff Leiper said. "It's acres of surface parking and an underused mall."