Remembrance Day is on November 11th.
In 2012 Remembrance Day is on Sunday, November 11. In 2010 it's on a Thursday.
On remembrance day members of the armed forces (soldiers, sailors and airmen) are commemorated. The other common name for this day is Armistice Day which marks the date and time when armies stopped fighting World War I. on November 11th at 11am in 1918 (the eleventh hour of the eleventh day of the eleventh month). Some 100,000 Canadian soldiers died in the First and Second World Wars.
In Canada, Remembrance Day is a federal statutory holiday (except in NL, NWT, ON and QC ***) as it is in most other countries in the world where this day is observed on the national level.
All government buildings fly the Canadian flag this day and people remember those who fought for Canada during a two minute silence at 11am. Many people wear poppies before and on Remembrance Day to show their respect and support for Canadian troops. Poppies are generally handed out free but often a voluntary donation is given in exchange.
In the United States this day is called Veteran's Day and is also observed on November 11.
---
*** We receive dozens of messages from people all over the country who are outraged why Remembrance Day is not a stat holiday everywhere in Canada. Yes, it would make sense to make this a stat holiday in every province and territory. Yes, even in Ontario.
Recently we received a comment from Jason and would like to post it on this page because we think that Jason makes a very good point in his message:
"Please DO NOT make Remembrance Day a statutory holiday in Ontario. Family Day is a much more appreciated break for families in the heart of the long cold depressing winter. Remembrance Day is better observered in a ceremony at your school, community centre or place of work."
What would most people do with another day off work? Sleep in, watch TV and go to the mall. (Similarly, on Thanksgiving Day most people cook a turkey and drink lots of beer instead of sitting back quietly and giving thanks and feeling geuninetly grateful). But if an organized observance was held at schools or at workplaces people would be much more likely to spend time participating and keeping the importance of Remembrance Day top of mind. When I (editor) was at school (in Europe, in the 1990s) on national holidays all kids went to school and we watched movies about history, sang songs together, listened to very nice speeches from our teachers and were very proud to be a part of the celebrations.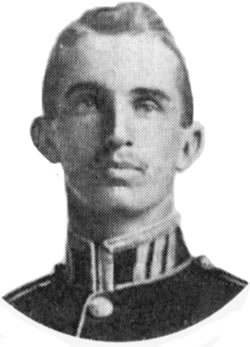 In Flanders fields the poppies blow
Between the crosses, row on row,
That mark our place; and in the sky
The larks, still bravely singing, fly
Scarce heard amid the guns below.
We are the Dead. Short days ago
We lived, felt dawn, saw sunset glow,
Loved and were loved, and now we lie
In Flanders fields.
Take up our quarrel with the foe:
To you from failing hands we throw
The torch; be yours to hold it high.
If ye break faith with us who die
We shall not sleep, though poppies grow
In Flanders fields.
Inspiration for "In Flanders Fields"
During the early days of the Second Battle of Ypres a young Canadian artillery officer, Lieutenant Alexis Helmer, was killed on 2nd May, 1915 in the gun positions near Ypres. An exploding German artillery shell landed near him. He was serving in the same Canadian artillery unit as a friend of his, the Canadian military doctor and artillery commander Major John McCrae.
As the brigade doctor, John McCrae was asked to conduct the burial service for Alexis because the chaplain had been called away somewhere else on duty that evening. It is believed that later that evening, after the burial, John began the draft for his now famous poem "In Flanders Fields".
For the story behind the inspiration for "In Flanders Fields", see our page at: