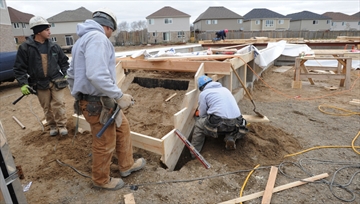 Housing starts
Philip Walker/Record staff
Workers with Monarch Canada work on a home in the Doon South area in Kitchener on Monday.
WATERLOO REGION — Don't count on a booming housing market in 2013.
Sales of existing homes are expected to fall slightly in Waterloo Region next year and housing starts will decline by a larger amount, Canada Mortgage and Housing Corp. predicts.
In its fall housing market outlook released Monday, the agency forecasts that 6,450 resale homes will change hands in 2013, a drop of 0.8 per cent from the 6,500 expected to be sold by the end of this year.
"Demand for resale homes from both first-time and repeat buyers will decline slightly in 2013 as the slow pace of economic growth, global financial uncertainty and less accommodating mortgage market conditions temper sales," Erica McLerie, a senior market analyst with the agency said in a news release.
The good news is that the resale market is expected to pick up later in 2013, she said.
"Improving economic conditions and stable home prices will support housing demand in the second half of 2013."
Housing starts are expected to reach 2,940 units next year, a drop of 6.4 per cent from the 3,140 on track to be launched this year, the agency says.
On the positive side, construction of single-detached homes in the region is expected to jump by 9.1 per cent in 2013 to 1,200 units, after falling 7.3 per cent this year, the report says.
"With new lots expected to be available for registration later this year in the city of Waterloo and the prospects of stronger income and job growth, detached starts will be stronger by year end and into 2013," it says.
Average prices for resale homes are expected to hit $329,000 next year, a bump of 1.9 per cent from this year's level of $323,000, the housing corporation says.
The average price for a new detached home next year will reach $430,000, a jump of 3.6 per cent from this year's figure of $415,000, the report says.
With the government tightening up mortgage rules and prices continuing to climb, the vacancy rate for rental apartments will remain low next year, the agency predicts. It will rise slightly to 1.4 per cent from 1.2 per cent in October of this year.
Three years ago, the vacancy rate stood at 4.1 per cent.
The average price for a two-bedroom apart will increase to $950 a month from $930 a month in October 2012.
The report also looked at the housing market in Guelph. There, sales of existing homes are expected to dip 1.6 per cent next year to 3,050 units from 3,100 this year.
Housing starts will fall 4.6 per cent to 725 units in 2013, from 760 constructed this year, the agency says.
The average price for a new, detached home in Guelph next year will hit $460,000, an increase of 2.2 per cent.
Nationally, the housing corporation says the market for existing homes will be softer this year than previously forecast, although the mid-point price will continue to rise from where it was in 2011.
It forecasts up to 465,600 units of existing housing will be sold this year. That's about 20,000 units fewer than the comparable number in the corporation's previous outlook in August.
The mid-point price for sales of pre-existing housing is now anticipated to be $365,100 this year, about $3,000 lower than in the summer quarterly outlook.
But the cost of housing is expected to continue to rise next year, albeit by a smaller amount than previously forecast.
The revised 2013 mid-point price estimate is $370,500 — about $6,800 lower than the previous forecast but $5,400 higher than the revised estimate for 2012.
The corporation is forecasting 177,300 to 209,900 housing units will be started next year — substantially less than the 210,800 to 216,600 units it expects to be started this year.
"A weaker outlook for global economic conditions and the waning of the effect of pre-sales from late 2010 and early 2011, which contributed to support multi-family starts this year, will bring moderation in housing starts next year," said Mathieu Laberge, the corporation's deputy chief economist.
"Nevertheless, employment growth and net migration will help support housing starts activity going forward."
chowitt@therecord.com with files from The Canadian Press