Living in Canada we cannot avoid cold climates, and so our homes especially exteriors tend to loose the charm when the extreme temperatures arrive. If you are trying to sell your home winter is no excuse to not have the curb appeal for your home. We understand managing home exteriors in winter can be challenging so we recommend a few tips and tricks to boost the curb appeal even in winter when your home reminds you of winter wonderland.
1. Red: Painting the exteriors is not the best choice; but if you choose the bold statement with red you just have taken painting in winter to a new level. When snow is covering the rooftops and walkways, nothing stands out quite like a bright, clear red. To get the maximum effect with red paint your front door and your home will stand out of anywhere.
2. Mailbox. Although with the internet taking over our lives we receive very few mail and so is the mailbox fading from our lives. We for boosting your curb appeal the mailbox comes handy with a few tweaks. Painting house numbers in red can compliment the bold red front door. You could also paint the mailbox red and leave the house number white in colour.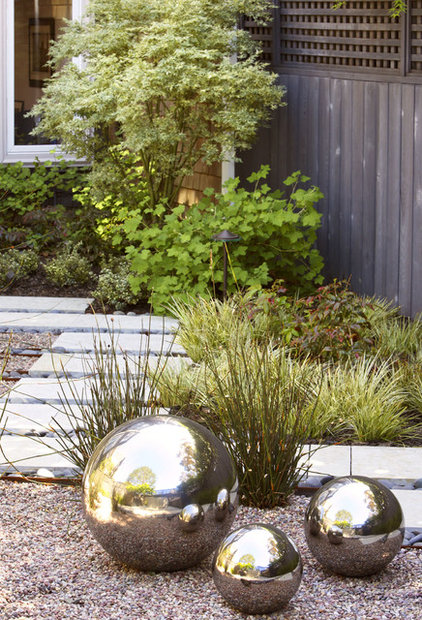 3. Ornaments: We often tend to relate ornaments to only festival celebrations; but believe me they are a handy asset when it comes to shinny ornaments they can be evergreen and perfect for every home. Make sure to choose something with a bit of gleam, like the silver orbs shown here, for maximum impact.
4. Tree. While you're picking up your Christmas tree, consider also grabbing the scrawniest tree in the lot — it would look adorable on the front porch with a simple burlap skirt and a strand or two of twinkle lights.
5. Lantern post. Reminiscent of old inns, a hanging lantern on a post is as charming as can be. If you don't want to bother with having it wired, just use a battery-operated outdoor-rated candle inside.
6. Driveway lighting. If your home is set back from the street, seeing it in the evening may be a challenge without a little extra help. Add a few driveway lights — on the ground level if you get no snow or up higher on posts if you do — to remedy the problem. Welcoming lights leading the way to your door will beckon warmly from the road, showing visitors the way.

Let us know if you have any additional suggestions on how do you spice up your home's curb appeal in winter?