The City of Brampton is home to over 850 parks, 217 kilometres of City-owned trails and in excess of 3,600 hectares of parkland. Throughout our parks you will find something for everyone! Brampton offers playgrounds, picnic areas, natural areas, tennis courts, athletic fields, skateboard parks, trails for cycling, rollerblading, running or walking, ski hill and open space.
Brampton offers you the chance to enjoy the outdoors and natural beauty through our various self-guided tours. To enjoy the beautiful parks and conservation areas in Brampton, download the Green & Fall Colour Self-Guided Tour PDF Version
Parks Gage Park
Main St. S. & Wellington St. W.
905.874.2300
The landmark gazebo and skating trail means you've arrived at Gage Park. Set in Brampton's historic downtown, summer at Gage Park offers a location for rollerblading, picnicking, and family fun with the children's play area and splash pad. The park also hosts summer evening concerts and popular special events. In the winter, a temperature-controlled skating trail attracts families and skating enthusiasts from far and wide to experience skating through the trees of this beautiful park.
Donald M. Gordon Chinguacousy Park
9050 Bramalea Rd. (at Queen St.)
905.458.6555
Renovations are complete and the park has re-opened! Using equal funding from the City of Brampton, Province of Ontario and Government of Canada, $24.5M has been infused to revitalize this destination. Come for the day and explore the formal gardens and lush greenhouse; stroll the pathways surrounding the ponds; visit the barn and petting zoo. Pack a picnic lunch or enjoy refreshments at the convenient food concession. The entire family is invited to play a challenging round of mini-putt. Young children will laugh with delight as they play at the new playground or splash pad.
Teens are encouraged to bring their bikes and boards to one of Canada's top rated BMX and skateboard parks. Throughout the summer months play a fast paced game of beach volleyball; join friends at the tennis court, achieve your fitness goals at the track or relax as a spectator at our state-of-the-art sports field. Come back when the snow falls to ski, snowboard, or tube down our popular hill, and then rest in our new chalet! Every season presents new opportunities and special events. Free parking on site.
Eldorado Park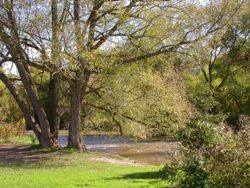 8520 Creditview Rd.
905.874.2874
A public recreational area since the beginning of the 1900s, Eldorado Park remains a popular place to fish, walk, swim in the outdoor pool, picnic or relax along the banks of the Credit River. Eldorado is also home to the only outdoor public pool in Brampton. Please call for seasonal dates and hours of operation.
Community Forest
Brampton's Community Forest is an exciting partnership between the City of Brampton and the Toronto and Region Conservation Authority, with the generous support of Trees Ontario, Tree Canada and the Region of Peel. Working together, we are creating a forest along Etobicoke Creek, in the heart of the city. It will showcase healthy urban forests and leave a legacy for future generations. Located at Elgin Woods Park, on the west side of Hurontario Street south of Elgin Drive, this forest serves as a recreational destination and a naturalized area.
Conservation Areas
Heart Lake Conservation Area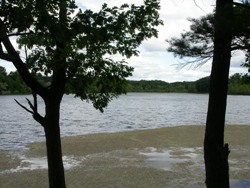 10818 Heart Lake Road
TRCA
416.667.6295
www.trcaparks.ca
Heart Lake Conservation Area is named after its spring-fed lake, which is roughly shaped like a heart. Located within the Etobicoke Creek watershed, this park is a popular destination with more than five million visitors since it opened in 1957. Park amenities include a splash pad facility and swimming pool, hiking trails, fishing, picnic areas, playground, pedal boat and row boat rentals.
Claireville Conservation Area
Queen Street East (Highway 7) and Claireville
Conservation Road (west of The Gore Road)
TRCA
416.667.6295
www.trcaparks.ca
A large, relatively dense forested retreat in the southeast corner of Brampton, Claireville Conservation Area contains a number of significant heritage features for the city. Claireville is a passive conservation area, preserving local wildlife and natural landscape.
The Claireville Conservation Area is an unsupervised conservation area.
New parking is available at the Hwy. 50 entrance, north of Steeles Ave. Washroom facilities are not available.