TD Bank sees house prices coming down in all but Canada's two hottest markets this year, with falling oil prices taking an especially large bite out of the housing markets in energy producing regions.
Only Ontario and British Columbia — propelled by the seemingly perennially hot housing markets in Toronto and Vancouver — will avoid falling prices and sales in 2015, the bank forecast. The bank sees house prices rising 3.1 per cent in Ontario this year, and 2.9 per cent in B.C.
"However, decreases in affordability tied in part to further gains in home prices over 2014 will likely act as a growing headwind in markets in Ontario and B.C.," the bank noted.
The strength of Toronto and Vancouver will help pull average house prices up for the year, by a relatively small 1.6 per cent, but overall home sales across Canada are expected to fall 1.7 per cent this year.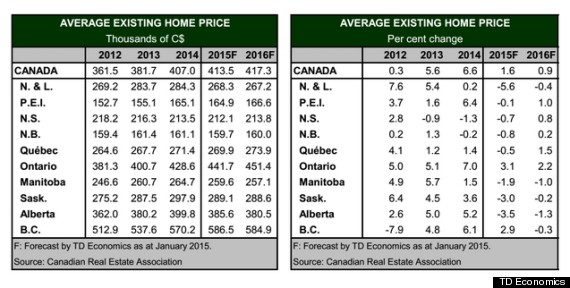 Source:http://www.huffingtonpost.ca/2015/01/26/house-pric...
please feel free to call me for available and upcoming investment opportunities