| | |
| --- | --- |
| Real Estate & Mortgage Market Newsletter - November Edition | November 2013 |
| | |
| --- | --- |
| Do you know of a friend or associate looking to buy or sell a house? | Click Here |
Canadian home sales fall back in October
According to most recent statistics released by The Canadian Real Estate Association (CREA), national home sales declined in October 2013.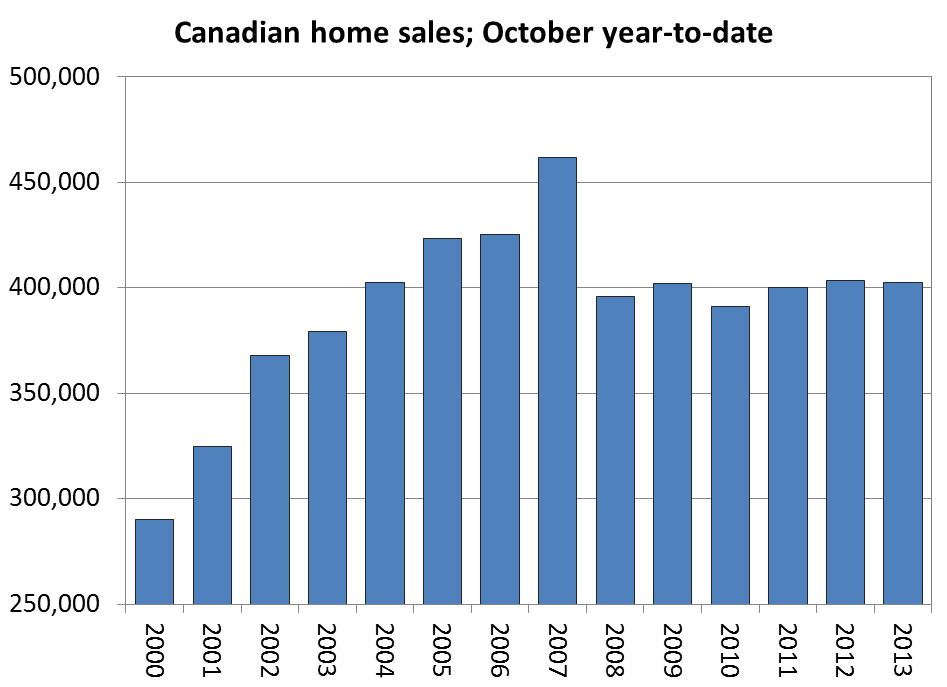 Highlights:
National home sales declined by 3.2% from September to October.

Actual (not seasonally adjusted) activity came in 8.3% above levels in October 2012.

The number of newly listed homes declined by 0.8% from September to October.

The Canadian housing market remains in balanced territory.

The national average sale price rose 8.5% on a year-over-year basis in October.

The MLS® Home Price Index (HPI) rose 3.5% year-over-year in October.
The number of home sales processed through the MLS® Systems of Canadian real estate Boards and Associations and other co-operative listing systems fell 3.2 per cent on a month-over-month basis in October 2013. The decline returned activity back to near where it stood last June and July.
Home Sales up 19% and Condo rentals increase 25% in a year in the GTA
GTA home sales remained strong in October, with sales up more than 19 per cent over the same period last year and prices up more than 7 per cent, according to figures released by the Toronto Real Estate Board (TREB) in November.
Condominium rentals are proving to be an increasingly popular option for Greater Toronto Area residents. TREB reported mid October that 6,541 condos were rented in the third quarter of 2013 which has increased a remarkable 25 per cent from the same time period in 2012.
OECD calls for Bank of Canada rate to more than double to 2.25% by end of 2015
Just last month, the Bank of Canada dropped a mini-bombshell by adopting a neutral position on interest rates, after long insisting that any eventual move would be up.
Now, the global think-tank says Canada's central bank may actually resume its course for higher rates — beginning as early as next year — as that economic momentum returns and inflation starts to pick up speed.
BoC chief Stephen Poloz says Canadian housing market not a bubble, predicts soft landing
Canada's housing market is not in a bubble and not likely to suffer a sudden and sharp correction in prices unless there is another major global shock to the economy, Bank of Canada governor Stephen Poloz said this week.
Decoding the mortgage market: One casualty of new restrictions could be 30-year mortgages
Since 2008, regulators have been trying to contain housing risk by piling on new mortgage rules, and bringing back some old ones. So far, the housing market has yet to crack under the weight of those policies.
In fact, home prices just keep reaching record highs. And each month they do, policy makers get more and more nervous about overextended borrowers.
Professionalism - Service - Results
* The information and opinions contained in this document are obtained from various sources and believed to be reliable, but their accuracy cannot be guaranteed. The publisher assumes no responsibility for errors and omissions, or for damages resulting from using the published information and opinions. This document is provided with the understanding that it does not render legal, accounting, or other professional advice. Whole or partial reproduction is forbidden without the written permission of the publisher.