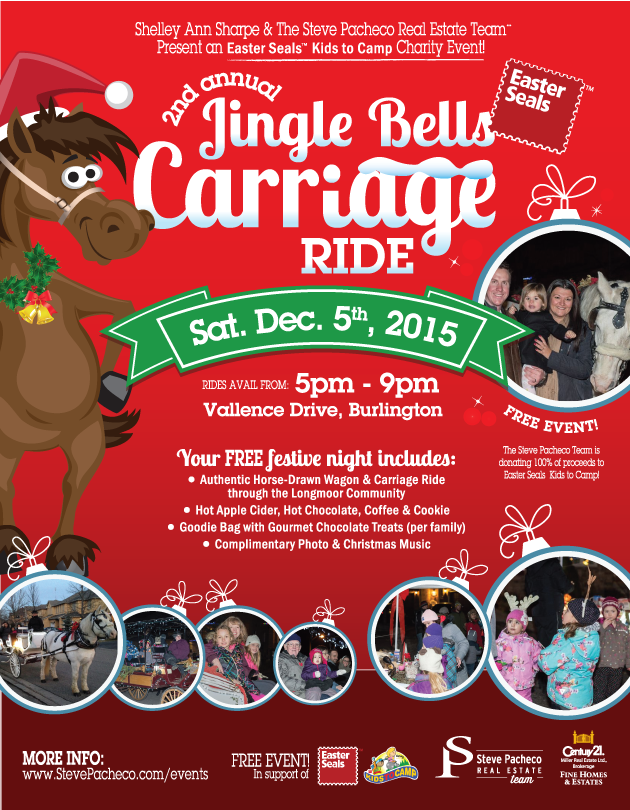 THANK YOU!
Jingle Bells Carriage Ride 2015
The Steve Pacheco Real Estate Team & Shelley Ann Sharpe hosted a charity "Easter Seals - Kids to Camp" event on Dec 5th, 2015! We are thrilled to announce that our 2nd annual #JingleBellsCarriageRide event was at least 3 times bigger than last year! We had a huge turnout, lots of donations for our raffle prizes and many generous families giving donations to our Easter Seal kids who joined us that evening. All of our proceeds are being presented to Easter Seals Ontario!! This year's event was held on Vallence Drive in Burlington with a program featuring free horse-drawn wagon carriage rides through the Longmoor community, complimentary hot beverages, cookies and a take-home treat bag with gourmet goodies. Thank you to our sponsors and prize donations by local businesses:
Centum/Jimmy Hansra,
The Co-operators/Anthony Traversa
Endless Vacation Rentals
Long & McQuade
Ancoe Property Inspections
Canada's Best Caesar
Tiny Guy Treats
The Baking Twins
Yellow Brick Road
Terra Cotta Cookie Co.
Steeped Tea/Andrea Stevens
Holly Hanson/Stylist
Aloette/Tina Alonzi,
Moksha Yoga Burlington)
Shawn Magill Photography
We are already planning our 2016 event which we plan to do at an even larger venue with more entertainment and of course, the gorgeous horses (my favourite is Gus!). With so much success for 2nd event, we hope to make next years fundraiser bigger and better where we can help give back to the community, bring families together and offer a free festive event to everyone!
---
Raffle Prize Winners!... Steeped Tea Gift Basket: Julija (ticket# 569027) Aloette Gift Basket: Doreen S. (ticket# 569261) Moksha Yoga Passes: Sylvia S. (ticket# 7363830) Moksha Yoga Passes: Miriam C. (ticket# 7363743) Holly Hanson Beauty Gift Certificate: Judy P. (ticket# 7363932) Holly Hanson Beauty Gift Certificate: Nathalie P. (ticket# 7363517) Minion Gift Pack: Mike N. (ticket# 569170) Star Wars Gift Pack: Jen S. (ticket# 7363695) Canada's Best Caesar Gift Basket: Judith & Steve. W. Home Depot Gift Card: Sandra W. (ticket# 7363700) Raptors Tickets: Dave (ticket# 7364005) Walk Off the Earth ukulele: Oana F. (ticket# 569111) 7 Day Vacation Stay: Nancy L. (ticket# 7363654)
---


To view backdrop photos taken by Shawn Magill Photography, click the button above.
Please like and share us on Facebook so that we can generate more interest for this free community event for 2016!

---
Want to donate to Easter Seals - Send a Kid to Camp? We are accepting donations all year round which are given directly to the Easter Seals Ontario Foundation. Donations of $25.00 or more will receive a tax receipt.
| | |
| --- | --- |
| | |
| | |
| | |
| | |
| | |
| | |
| | |
| #JingleBellsCarriageRide #BurlingtonEvents | #StevePacheco #FreeEvents #Halton #CarriageRide #Dec5 |