Focus on Your Fridge
Today, the average refrigerator lasts between 14 and 17 years, but the replacement cost can range from $900 to $8,000, so you'll definitely want to keep your fridge working efficiently as long as possible. Here are a few fridge tips to maximize the appliance's life:
Check and clean door seals twice a year. To see whether your fridge seals are sealing properly, close a dollar bill in the door; if it slips out easily, have the seals checked by a professional.
Clean the condenser coils twice a year. Coils covered in dust and pet hair keep a fridge from running efficiently. To clean the coils, unplug the fridge, pull it away from the wall and vacuum the coils with the brush attachment.
Clean the condenser fan. While you have the fridge unplugged and pulled out from the wall, to clean the coils, remove the lower back cover with a screwdriver and then brush and vacuum the fan.
Keep the fridge full. A fridge needs thermal mass to maintain low temperatures, so if you don't keep a full fridge all the time, store a few jugs of water inside.
Did You Know?
What's the Life Expectancy for Your Appliances?
You might not think much about your appliances — after all, they are just part of your everyday life — but when it comes time to replace one or more of them, you'll want to be prepared. Wondering about the average life expectancy and cost of common household appliances? We have some answers: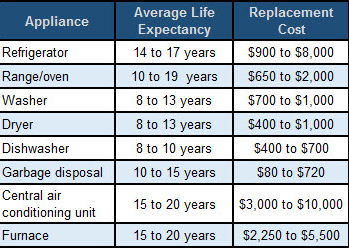 v